Greystone Park Psychiatric Hospital, New Jersey's second oldest insane asylum, opened its doors to the first 300 patients in 1877. Originally called the New Jersey State Lunatic Asylum at Morristown, it received its current name, Greystone Park, in 1924.
Postcard published sometime before 1923. Source: Greystone Park Psychiatric Hospital archives.
Dorothea Dix, a school teacher and crusader for the mentally ill, was instrumental in creating the new hospital. Her persistence and lobbying led the New Jersey legislature to appropriate $2.5 million to secure land for Greystone. Dix proposed the new hospital to relieve overcrowding at New Jersey's first state hospital in Trenton, which she founded in 1848. Trenton Psychiatric Hospital is significant because it was the first mental hospital built according to the Kirkbride Plan, which emphasized humane treatment of the mentally ill.
The Kirkbride Plan
Thomas Story Kirkbride (1809–1883), a physician and advocate for the mentally ill, was regarded as one of the leading authorities on mental health care in the late 1800s. His ideals were based on the concept of "moral treatment," where patients enjoyed attentive care with a minimum use of restraints, and his belief that the buildings and grounds could have a curative effect on patients.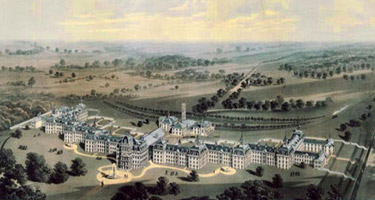 Aerial view of the Greystone campus depicting its staggered patient wings and remote location (date unknown).
Most Kirkbrides feature stunning architecture and amazing attention to detail, both inside and out. No cost was spared, it seems, in ornamenting the buildings. They were often built in remote areas, away from pollutants and noise so that patients could enjoy the beauty and peace of their surroundings in a natural setting.
Like many Kirkbride buildings, Greystone's patient wings were staggered "en echelon" so that each section received adequate sunlight and fresh air, promoting more comfortable living spaces. The wings branched out from a central section that was used for administrative purposes, with males and females on separate sides. The most unstable patients were placed at the ends on the lower floors, away from the central administrative area, where their screams and outbursts were less likely to disturb others. More well-behaved patients were situated on the upper floors near the administrative center, with amenities such as stuffed Victorian furniture, pianos, wool rugs, pictures and fresh flowers. Some of the pictures still hung on walls when we visited in 2010.
The Greystone campus, like other Kirkbrides, was largely self-sufficient with its own dairy and agricultural farms, power generating station, water utilities, staff housing, police and fire stations, a post office, and recreational and vocational facilities. Patients worked on the farms and performed hard labor and other tasks in the hospital and on the grounds. Kirkbride believed that putting patients to work aided their general well-being by providing a sense of accomplishment and purpose. In addition, the institution benefitted from the fruits of their labor, with readily available food and other products such as brooms, rugs, brushes, and carpets—all at a minimal cost to the state.
Overcrowding
Just four years after opening, 800 patients overcrowded wards designed to accommodate 600, and inadequate staffing exacerbated the problem. Attic space and exercise rooms were haphazardly converted to patient rooms with cots that were set up and taken down on a daily basis. Even hallways were utilized to provide space for overflowing patients to sleep.
Hallway cots in 1914. Source: preservegreystone.org.
Jon silhouetted in a similar hallway in 2010.
Relief came temporarily when a new dormitory building opened in 1901. But by 1911, the facility housed 2600 patients, 1.6 times its maximum capacity of 1600. At its peak in 1953, Greystone accommodated a staggering 7600 patients, many of them veteran soldiers recovering from post traumatic stress disorder (PTSD) suffered as a result of fighting in World War II.
Congested wards created a health hazard, leading to at least one outbreak of typhoid fever. Poor care made matters worse. Patients often soiled their beds at night, yet nurses handed the cots out the following day without cleaning them. Even the hospital board confessed that the cots were a sanitary abomination.
Treatment
Kirkbride's vision of moral treatment, popular in the late 1800s, eroded as treatment practices evolved based on current theories regarding mental illness. Around 1919, doctors removed teeth, tonsils, thyroids and prostate glands in a misguided attempt to alleviate psychiatric problems. Hydrotherapy was used from 1906 to the 1950s in various forms. Some methods, such as steam baths, are analogous to today's health spa treatments. Others don't seem so innocuous by current standards—depressed patients were sprayed with hot and cold water at extremely high pressure and piercing sharp streams in order to stimulate them. From 1940–1950, doctors performed lobotomies in an attempt to control impulsive and destructive behaviors.
Later on, patients were treated using insulin shock therapy in the hopes that they could be "jolted" out of their mental condition. They were injected with increasing doses of insulin over a period of several weeks to two months, causing daily comas. Nurses also used electroshock therapy to induce seizures, a treatment practice that is still used today in cases of severe depression. Unfortunately, patients suffered long term side effects as a result of shock therapy, including gross obesity, brain damage, and even death.
Deinstitutionalization
During the 70s and 80s, patient numbers decreased dramatically as new drugs and budget cuts emptied the congested hallways. Thorazine alleviated psychotic tendencies such as paranoia and hallucinations associated with schizophrenia and bipolar disorder, improving the prognosis of many patients. The development of patient's rights, including new laws requiring minimum wage in exchange for their labor, forced operating costs to skyrocket as patients could no longer work to offset the price of their care. Public outcry concerning abuse and unsanitary conditions was also a contributing factor.
By 1988, patients and staff had vacated Greystone's main Kirkbride building. Many buildings, including the dormitory, were subsequently vacated and demolished. The entire complex was slated to close in 2003, but the final remaining patients did not move out until 2008, when a brand new, 450 bed facility opened just up the hill.
Current State
The Greystone campus was purchased by Morris County from the state of New Jersey in 2003 for $1. Due to neglect, the approximately 40 remaining buildings—many of them historically significant—are in danger of being bulldozed.
Jon Haeber and I visited Greystone in March 2010 to document the hospital before it was too late. Buildings are connected by a network of underground tunnels, some of them beautifully lined in original brick. The tunnels are a confusing labyrinth, making it easy to get disoriented and lost, but they helped us move around freely without any security patrols seeing us. We found wheelchairs abandoned in place by patients in the tunnels. A storage room in the basement contained thousands of patient records on collapsing shelves—admittance documents, physical exams and death certificates.
Upstairs, the patient wards have sat in a state of arrested decay for the past 20+ years. On the ground floor, we walked past graveyards of chairs and other furniture piled up in dark rooms. A planter with fake flowers still hung in front of a boarded up window in a former patient's room. Even though I didn't feel a breeze, I observed the planter slowly twisted back and forth as if being influenced by looming spirits. Peeling paint, rotting wood, and extensive decay surrounded us. Bird carcasses rested in window sills, where they perished after being trapped inside. On the top story, patches of grass grow on the floor as Mother Nature begins to reestablish her dominion.
Conclusion
Greystone's demise is an all too common story in the institutionalized care of the mentally ill. The initial practice of providing adequate care was later tarnished by severe overcrowding and cases of abuse. The irony is that one of the central tenets of the Kirkbride Plan focused on moral treatment of patients who previously had been living in appalling conditions—often shackled in chains, neglected, isolated, and tortured by physical beating, starvation, shocking, and bloodletting. But bulging populations, inadequate funding and changing times resulted in the idealistic vision of humanitarians like Dix and Kirkbride being unsustainable.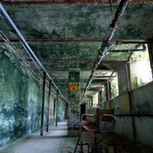 Buy a print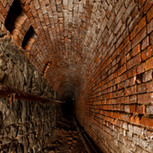 Buy a print
Buy a print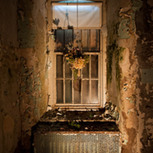 Buy a print
Buy a print
Buy a print
Buy a print
Buy a print
Buy a print
Buy a print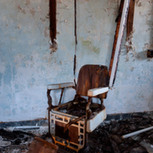 Buy a print
Buy a print
Buy a print
Buy a print
Buy a print
Buy a print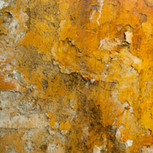 Buy a print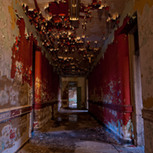 Buy a print
View more of my Greystone Park Psychiatric Hospital photos »
Sources
http://www.preservegreystone.org/history.html
http://www.kirkbridebuildings.com/buildings/greystonepark/
http://www.asylumprojects.org/index.php?title=Greystone_Park_State_Hospital
http://www.forgottenphotography.com/greystone/greystone%20history.htm
http://en.wikipedia.org/wiki/Trenton_Psychiatric_Hospital
http://en.wikipedia.org/wiki/Kirkbride_Plan
http://en.wikipedia.org/wiki/Thomas_Story_Kirkbride