Burning Man 2006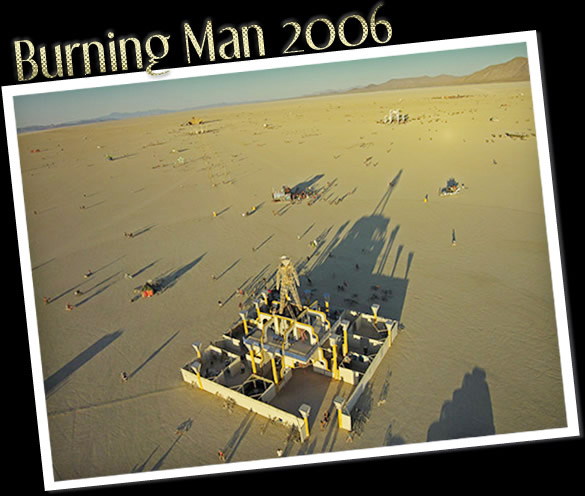 It is difficult to describe the Burning Man experience. For me, one word seems to come out of my mouth every time I attempt to describe the event: amazing. To say I loved it would be an understatement. Well, I didn't love everything about it. The nonstop dance music blaring all day and all night every day got really old. I do not particularly enjoy listening to dance music. Not at all. And the playa dust—the fine-grained silt is easily lifted up by the wind and it is alkaline, drying out the skin and especially hands. It became difficult for my dry, chapped hands to handle the kites and camera gear after a couple days.
But the experience exceeded my expectations in almost every way. I realized that nearly 40,000 people would converge on the isolated playa in northern Nevada, but it was impossible for me to grasp the scale of the event before attending my first burn. I could not have imagined the ingenuity and dedication of the participants. We observed a full-size roller skating rink, carnival style "rides," massive artwork installations, and a huge assortment of "mutant vehicles" from a giant tricycle to a dragon bus to rolling sofas and picnic tables, and even a glowing gazebo that appeared to be floating along the playa surface at night.
I imagined more of a grassroots event where a makeshift burning man is lit on fire by the organizers (probably analogous to the early years). Instead, we were treated to a fully choreographed performance before the burn and the most impressive fireworks display I have ever seen. Imagine a typical, 2-minute grand finale…but continuing for 30-minutes uninterrupted. Just before the fireworks commenced, the 40-foot wooden man began erupting fire from his arms. The combination of fireworks and erupting fire eventually engulfed it in flames as 40,000 people cheered.
We rested during the day, reading and relaxing under a tarp to protect us from the relentless sun. But early in the morning and during the evening hours, I was busy photographing. I wanted to be everywhere at once during the edges of the day when the lighting is best. When I was flying the kite acquiring aerial photos, I spotted ground photos that I wished I could capture. When I was focusing on taking ground-based photos, I lamented the fact that I could not be shooting aerials. The event was so ephemeral and dynamic that it was not possible to capture everything. At night, we wandered around marveling at the similarity to Las Vegas with all the neon lights and round-the-clock activity. All of this in a remote area that reverts to a barren, empty desert, devoid of most human presence for most of the year!
Burning Man in Google Earth
Google Earth is an interactive, 3D viewer that seamlessly zooms from a global scale down to less than a meter in many urban areas. Google recently added a high-res satellite image of this year's burn, so I registered one of my aerial photos of Burning Man on top. Download the overlay, and zoom from space all the way down to the finest details of this year's Burning Man.