The distinct Hawaiian-themed funnels of the abandoned S.S. Independence cruise ship, visible from both I-280 and HWY 101, were a familiar site to commuters in San Francisco. The neglected ghost ship sat unused in the Pier 70 drydocks from 2004–2008, after being moved from its previous home at Mare Island. Prior to that, it was anchored in the Mothball Fleet in the Suisun Bay.
The steamship was completed in 1951 at Bethlehem Steel Corporation in Quincy, Massachusetts at a cost of $50 million. It had a rich history of sailing passengers between New York and Europe, Portugal and Africa, and in its later life, inter-island service in Hawaii. In 1981, it ran aground off the coast of Kauai, suffering severe damage. Although the ship was repaired, it became a casualty of decreased bookings following the September 11 attacks that ultimately forced the tour company to file for bankruptcy.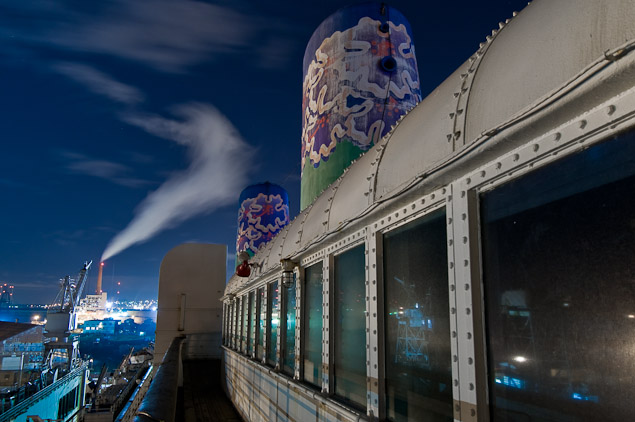 An Unlikely Outcome
In September 2007, Stephen Freskos and I snuck into BAE Systems, an active ship repair facility and Department of Defense contractor in downtown San Francisco. To gain access to the shipyard, we climbed a razor wire fence, crawled into an abandoned warehouse, and scaled the side of a building above the western edge of SF Bay. There we stumbled upon a hole cut in a chain link fence that we slid through onto the property. Similar to our first two missions, our goal was to board the decaying, forgotten 682-foot S.S. Oceanic Independence cruise ship moored on-site.
Unfortunately, we weren't so lucky this time. As we sprinted across the yard toward the ship, the night foreman spotted us. We tried to run up the gangway and hide, but it was too late. He was angry and screaming at us, ordering us to get off the boat. We obliged, and were promptly escorted to the guard shack near the shipyard's main entrance.
At first, the guard demanded that we turn over all of our camera gear, including our bags. We refused. When the SF Police arrived, the guard changed his mind and decided that confiscating our memory cards was sufficient. I inquired with the officer about our options and she presented an ultimatum: Turn over our memory cards or be arrested. It was an easy decision; since we hadn't made it onto the ship that night, our $20 memory cards were still empty. The cop insisted on keeping a paper trail so that we could recover our seized cards, but it didn't help.
Despite repeated efforts, we never saw our memory cards again. But something remarkable happened. After multiple visits and phone calls, I began to befriend both the guard and the night foreman who ran us out. Eventually, the foreman became comfortable enough with me that he offered legitimate access to photograph the shipyard at night during his shift. Initially, the Indy was off limits, but after a few visits, he allowed us to board the ship and gave us the keys and free reign to shoot both the exterior and interior of the ghost ship.
The night foreman holding his daughter's "Flat Stanley" at the shipyard
Goodbye Indy
I feel very fortunate to be one of only a few photographers allowed on board one of the last American-built cruise liners before it was too late. The Indy's survival had become symbolic of an era before air travel enabled most of us to zip across the country and even around the globe in just a few hours. In fact, it is the jet engine that ultimately sealed the ship's fate.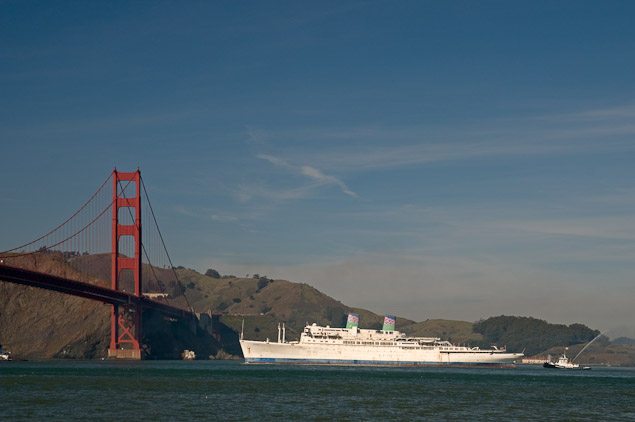 On February 8, 2008, the Indy was pulled out to sea by tugboat, unable to make the voyage under her own power. Although her destination was muddled in uncertainty and controversy, the ship's final port of call ended up being a ship-breaking beach in Alang, India.
Buy a print
Buy a print
Buy a print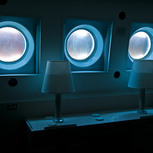 Buy a print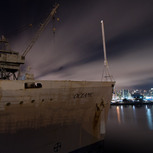 Buy a print
Buy a print
Buy a print
Buy a print
Buy a print
Buy a print
Buy a print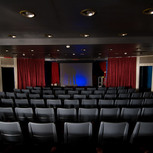 Buy a print
Buy a print
Buy a print
Buy a print
Buy a print
Buy a print
Buy a print
View more of my S.S. Independence ghost ship photos »
See Also: